Wednesday, April 7, 3:00PM – 4:30PM (PST)
CHRISTINE HÜNEFELDT, Professor Emeritus, History, University of California San Diego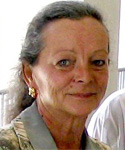 Conversation with historian Christine Hünefeldt: "Crafting Borders?"
With the participation of LAIS graduate students Marlene Torres-Magaña and Emma Zamora García. 
BIO: Christine Hünefeldt received her Ph.D. in Ethnology, Americanistics, and History from the University of Bonn, Germany in 1982. Her research focuses on Latin American history with an emphasis on Andean history, the lives of women, indigenous populations and slaves. Currently her research is centered in the Amazon Basin and the virtual reconstruction of its history. Her books include Paying the Price of Freedom: Family and Labor Among Lima's Slaves, 1800- 1854; Fiscal Capitalism and the Dismantling of Citizenship, Puno-Peru in the Nineteenth Century; and Crafting Borders. From Tordesillas and Q'osqo to Andean Nation-States.1500-1900.
Marlene Torres-Magaña is a UCSB LAIS Master's student, preparing a thesis on the way Mexican comic books were instrumental in visually intertwining race and nation to educate the masses about mestizaje and producing images of what it meant to be "Mexican" during the 20th-century.
Emma Laura Zamora García is a UCSB LAIS Master's student, preparing a thesis on transnational communities, specifically individuals who commute, work, and live between the U.S.-Mexican border. She looks at how these border crossings affect the everyday experiences of these individuals.
Thursday, April 8, 1:30PM – 3:00PM (PST)
MELISSA WRIGHT, Professor, Geography,  Pennsylvania State University 
Border Thinking & Living la Vida Fronteriza (the Border Life)
ABSTRACT: Transnational social justice coalitions along the Mexico-US border engage with the challenge of making the borderland-landscapes where they can take root. In this talk, Melissa Wright offers a brief reflection on the articulation of "border thinking" (pensamiento fronterizo) with other non-binary approaches to understanding and living border life within borderland justice work. The intent of Wright's talk is to identify the productive opportunities of deepening engagement and strategic collaboration at this critical political moment as the living landscape of the Mexico-US borderlands hangs in the balance of struggles over the meaning, form, and function of this place in the world. 
BIO: Professor Wright's research investigates the dynamics linking politics, economy, landscape, and well-being in the Mexico-US borderlands and in the southern Americas as a region.  Currently, her work focuses on governance, social movements, and the making of sustainable landscapes in the borderlands. Her intersectional approach combines critical geographic, interdisciplinary feminist, critical race, and indigenous studies from the southern Americas. Her methodologies include field work, such ethnographic and landscape studies, and textual analysis within international and collaborative research projects.
Friday, April 9, 2:00PM to 3:30PM (PST)
KAI MEDEIROS, J.D., Staff Attorney, American Bar Association, Immigration Justice Project, San Diego
Assessing the Damage: Reflections on the Trump Administration's Dismantling of the U.S. Asylum System
ABSTRACT: The Trump administration was uniquely successful in its efforts to cripple the U.S. asylum system. Through policies such as the Remain in Mexico program, increased restrictions on asylum eligibility, and the use of the COVID-19 pandemic as a pretext for refusing to accept asylum claims, the administration waged an effective war on the rights of people seeking protection in the U.S. In this talk, Kai Medeiros shares his experience of representing asylum seekers along the U.S.-Mexico border amid this maelstrom of adverse policy changes. Reflections on ways to improve this system, and bring it into greater conformity with the Constitution's due process guarantee and the U.S.'s obligations under international law, will be discussed. 
BIO: UCSB alumnus, Kai Medeiros, is a staff attorney at the American Bar Association Immigration Justice Project, in San Diego, California. There, he represents noncitizens—primarily detained asylum seekers—before the Executive Office for Immigration Review and in federal court. Kai received a BA from UCSB in 2013, He received a JD from Stanford Law School and an MA from the Stanford Center for Latin American Studies in 2017. He then clerked for the United States Court of Appeals for the First Circuit before relocating to San Diego, where he has practiced immigration law since 2018.